Submitted by

keith

on Mon, 10/25/2021 - 23:39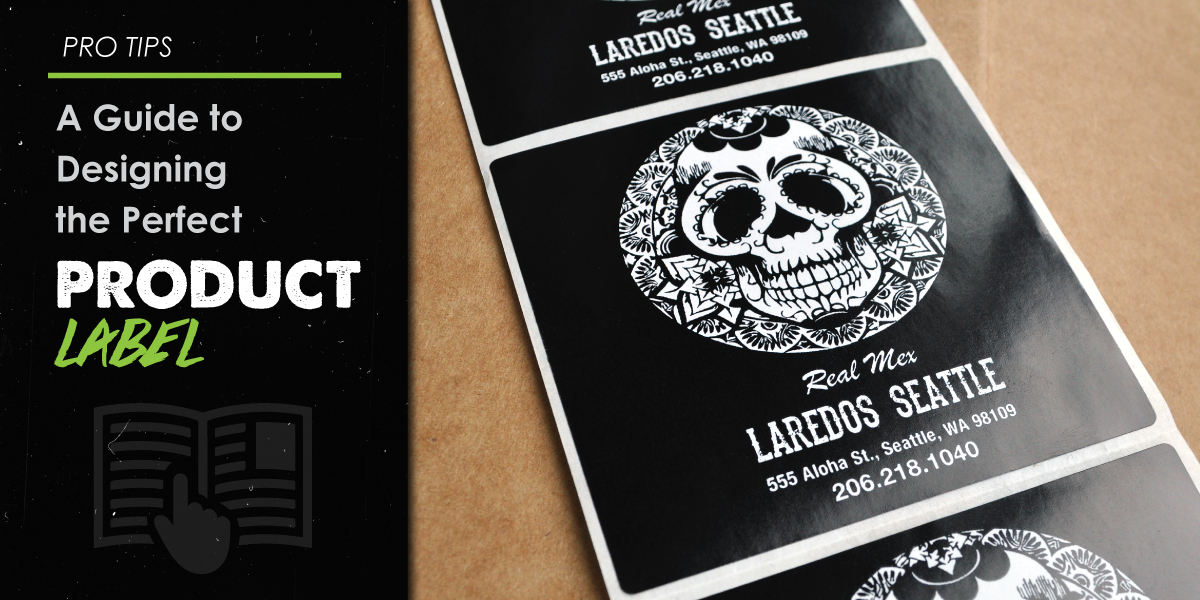 When shopping in brick-and-mortar stores, the first thing most people notice about a product is its label. About 74% of consumers decide to buy something once inside the store. So if your label isn't eye-catching, it has little chance of landing in a shopping cart and getting purchased. The best way to get your product flying off the shelf—online or offline—is through a well-designed label. But there's a lot to consider when creating the best product label design for your brand. 
Let's look at the factors that go into great product labels and what you can do during the design process. 
6 Tips for the Best Product Label Design
Here are a few tips you can follow during the design process:
1. Consider the Size
On the drawing board, know the packaging or container size, shape, and type in determining label design. A good product label has to be proportionate to the product's vessel to work well. For instance, a small jar calls for a tiny label containing only the essentials. Cramming too many unnecessary elements in a small label forces you to make the text smaller or even downright illegible. 
2. Align with Your Brand
Branding sets you apart from competitors. For consistency, always use your unique brand voice, even when creating product labels. Also, your logo should never be left out, as it readily identifies your product.  
3. Choose the Right Colors
Colors quickly grab attention, and the wrong ones may result in a disaster. You want to stand out, but for good reasons.
If you already have an established color scheme, use it and limit your design's palette to no more than three. Otherwise, consider your brand's values when picking colors to communicate more effectively with your target market.
4. Make It Readable
A well-designed product label should be easy to read, even at a distance. Typography is essential, and using the right fonts keeps necessary information legible.
Combine different fonts to distinguish key details, such as brand, product name, and slogan, but use only up to three to keep the design clutter-free and easy on the eyes.  
5. Be Visual
Humans are visual beings. You'll catch their eye by adding unique graphics, hand-drawn illustrations, and photos on the label design--giving your product an edge over competing brands. 
6. Information Hierarchy Is Also Important
What you put on the label is important, but not every detail deserves to be front and center. Creating an information hierarchy—ranking information from most to least essential—gives you leeway on what to exclude when you run out of space.
Product name, brand name or logo, and slogan or USP are vital to customers, so put them at the front. Others can be placed at the back.
What Makes the Best Product Label Design?
A winning product label design goes beyond just its looks. Consider the following:
Your Brand Story
Use your product label to tell a compelling story about your brand. If you have an interesting origin story, consider sharing it with potential buyers through your label design. 
Perhaps you use sustainable methods to source and manufacture your product; sharing this information on the label may appeal to environmentally conscious buyers. 
Some companies use mascots to tell their story. A mascot can serve as a hero or a way to make your brand more personal or recognizable. For instance, the Walt Disney Company uses Mickey Mouse as its mascot. Since 1928, the friendly, lively mouse has been a symbol of the company's origins in the field of animation, appealing to children and adults alike.
What You Stand For
Many companies get started because their founders were inspired by something or had a clear goal or mission to accomplish. Let buyers know what you stand for through the label. Maybe your product aims to provide a more affordable option than its competitors, emphasizes safety, or is of superior quality. 
It may also aim to empower a specific demographic. For instance, clothing company SPANX is on a mission "to help women feel great about themselves and their potential."
What Your Product Is About
It might not always be clear to potential buyers what your product is about. This is particularly true if the product is the first of its kind or highly innovative. Use the label to educate the buyer. Let's say your product is a small personal electric vehicle—a label on the packaging that depicts someone having fun while driving the vehicle would capture the attention of many people and immediately explain what the product is about.
Other Considerations When Designing Product Labels
How Your Audience Impacts Your Label
The best product label design does more than inform the consumer of what they're buying; it serves as a mini-advertisement for your brand and highlights unique selling points (USP). To do that, you have to understand your target audience first.
Before starting on the label design, you need to pin down who your ideal customer is. Bear in mind that certain demographics have particular preferences. They respond differently to visual cues, so you have to identify which colors, fonts, images, and styles appeal to them.
Here's a basic list of must-knows:
Gender: Is your target audience mostly women, men, or a mix of both? This affects whether your label design should be more feminine, masculine, or gender-neutral. 
Age: A colorful label with a whimsical font or playful style may appeal more to kids. Meanwhile, product labels for older consumers could work well with more subdued or neutral colors and classic fonts. 
Education: Your audience's general education level can affect how complex your label's visuals and wording are. You'll want them to easily understand what it says. 
Income: What income group does your audience belong to? Luxury products for high-income earners should have durable, elegant, and timeless labels. For instance, the ink on the label of a premium bottle of wine shouldn't easily fade and the paper should not crinkle from room temperature changes.
Values: Your design should also resonate with the target audience's values. For instance, are they environmentally conscious? If so, the label can mention your product's eco-friendly benefits.  
Pain Points: What problems does your audience have that your product can solve? Your label can address these. 
The list can go on and on. The more you know about your audience, the more effective your product label design will be. When you create it to convey your message, consumers are more likely to buy the product because it resonates with them.
Have an Honest and Law-Abiding Label
Honesty is always the best policy when designing labels. Nobody wants to deal with a business that tricks them into buying a product based on a false label. For instance, if your product has some synthetic materials or ingredients in it, you shouldn't label it as 100% organic. 
Regulatory boards may also require you to include more information when designing the label. For example, if a brand markets a food product as kosher or halal, the label should indicate that it's indeed kosher or halal-certified. 
Getting caught mislabeling products can undoubtedly land you in legal trouble—and will make you lose your customers' trust. 
Print and Material Quality Matters
Having the best product label design would be all for naught if it's printed poorly! The label's quality reflects on your brand's reputation too. Suppose the text is smudged, or the material it's printed on gets torn or wet during handling. Customers are unlikely to have a good first impression of a product if the packaging is damaged before buying it. 
You'll want to go with a reputable printing service that not only prints your designs accurately but also uses durable material that doesn't get damaged easily. 
Let's Put a Label on It
After making the best product label design, the next step is to have it made by a trusted, reliable source—and you should do that with us! With over 21 Years of experience passionately manufacturing labels, let us help you choose the right label material and style from our library of over a dozen different Paper, Vinyl, BOPP and Polyester Base materials along with numerous Over-Laminate options for your project.
Team up with one of our world-class Account Reps to get your projects' details and objectives explored, identified and then solution(s) creatively recommended to you, so that you can then do what it is that you do best; growing your business.
Check out our FAQs for more information. If you would like to speak to one of our professionals, contact us today!